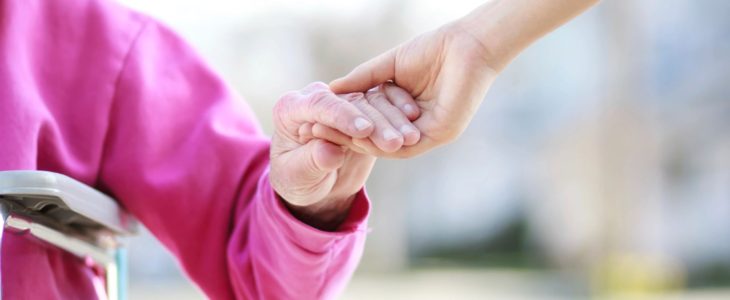 I've written about caregiver burnout in the past. Today my post will highlight bow setting boundaries in your caregiving relationship can ease that burnout as well as the guilt that both the caregiver and patient often feel as a result.
"There are only four kinds of people in the world: those who have been caregivers, those who are currently caregivers, those who will be caregivers, and those who will need caregivers."

–Former First Lady, and caregiver advocate, Rosalynn Carter
I went to a recent Conversations with Kelly event on Wednesday, August 9, 2017. The theme was "Lean on Me. Caring for the Caregiver". Kelly and four amazing caregivers spoke about the difficulties, joys, and lessons of being a caregiver. I learned so much and took detailed notes, so you can be sure I will share from that incredible experience in the future.
If you live in the Twin Cities area, and you are walking through a cancer diagnosis (either your own or that of a loved one) I highly recommend attending one of the quarterly CWK forums. To learn more, you can visit her website. I also recommend reading this great article from the Minneapolis Star and Tribune, highlighting her work.
Caregiving can be overwhelming
Consider that when someone goes to the hospital, it takes on average, 12 people to care for them. And these 12 people change shifts 3 times a day. As a caregiver, you are suddenly thrust into many roles, 24/7. Some of these roles include:
Cook/Nutritionist: preparing meals, shopping, and other errands
Housekeeping and Laundry: organizing, packing or cleaning for a trip, or general house care and cleaning
Driver: to appointments and other errands
Managing others: such as visitors and support volunteers, relaying information from a doctor to family members
Health monitoring: Attending doctor visits, following a care plan and noticing any changes in the individual's health, recording and reporting any differences
Pharmacist: medication management, refilling prescriptions and watching for side effects
Physical comfort: Assisting with personal care, bathing and grooming, dressing, toileting, and exercise
Emotional councilor: being a stable companion and supporter in all matters personal, health-related and emotional
Spiritual aid: Prayer, reading inspirational books/scriptures, keep in contact with faith community
General health care: overseeing medication and prescriptions usage, appointment reminders and administering medicine
Personal supervision: providing constant companionship and general supervision help with getting in and out of a wheelchair, chair, bed or shower, safely
Transportation: driving to and from activities, running errands, and help to get in and out of wheelchair-accessible vehicle
The resulting guilt
With these responsibilities, it's inevitable that caregivers feel like they fall short. This leads to caregiver guilt. It also leads to patient guilt.
They see their caregivers neglecting other relationships and responsibilities in favor of caring for the patient. They see how tired the caregiver is and the effects it is having on their overall health.
Patients are in the most vulnerable position they have ever been in. They have lost control over so many things in their lives. Often the patient was once the provider and strength in the family. Many patients say they feel like a burden to their loved ones.
Setting boundaries benefit both patients and caregivers.
This includes setting boundaries between the patient and caregiver. These boundaries should include setting aside time for yourself to refresh and nurture the other relationships in your life. Sometimes this can cause some anxiety on the part of both the patient and the caregiver, especially if the level of caregiving is intense. It's even more difficult if the patient has a terminal illness. The caregiver may think, "What if Mom dies tonight while I'm on a date with my girlfriend?"
Kelly Grosklags says about this, that "people die when they are ready. Don't feel guilty if you do happen to miss the death, itself. You have to make decisions in the moment with the information you have at the time. You have to say no in order to say yes."
"Love many things, for therein lies the true strength, and whosoever loves much performs much, and can accomplish much, and what is done in love is done well." –Vincent Van Gough
Another thing you can do to set boundaries in caregiving is to accept help. Next time, I will talk about why it's hard to ask for help and offer help. Be sure to sign up below to get notified when I post my weekly post. That way you won't miss a thing!
I am an author, writer, and speaker and homeschooling mom of 3. Since my husband, Dan was diagnosed with stage IV lung cancer in 2012, I've focused my writing and speaking on helping cancer patients and their families advocate for themselves and live life to the fullest, in spite of their illness.
My goal is to help people face cancer with grace.
My book Facing Cancer as a Friend: How to Support Someone Who Has Cancer, is available on Amazon.com