What does a day in the life of a cancer patient look like? I'm asked this question a lot by people who want a better idea of how to support a loved one who's living with cancer. A couple of years ago, I brought it up at the dinner table to see what our family thought.
Our 14 year old immediately said, "It depends on which day."
My 17 year old said, "Which treatment."
"And what he did the day before," added our 12-year-old."
Then they proceeded to list off all of the scenarios that we might happen to experience at any given time. I was surprised at their insights at such a young age. Kids who have a parent living with cancer quickly gain a keen understanding of its effects.
As I look back over the past 5 years, I find that they are divided up by treatment and side effect; hope and heartbreak.
Year One- A Year of Adjustment
In the beginning, Everything was overwhelming. It wasn't just the physical, but also emotional well being that was in jeopardy.
Near the end of 2012, Dan began the targeted therapy called, Tarceva. He had a mouth so full of sores that he could no longer preach his sermons, so, in early 2013, we closed the church. He was heartbroken. We learned at that time how inundated patients and their families are with insensitive people. After a few years of reflection, I wrote a book called, "Facing Cancer as A Friend: How to Support Someone who has Cancer." Because, the truth is, most people want to help, but they don't know how.
Year Two- Fatigue and Weakness
By early 2014, Dan was still on the wonder drug that shrank his cancer to invisibility on scans. He'd become so fatigued and out of breath, that a walk around the neighborhood was difficult. Nothing excited him anymore because thinking about doing anything was overwhelming.
That was when we came up with a system of "one thing a day." Each day, Dan could do one thing; a visit with a friend, a real estate showing, a prayer meeting, Sunday morning church. He had to decide what that day would allow. If it was a big thing like a trip to the Minnesota State Fair (a must-not-miss), we would map out our day, making one strategic pass through the fair. The last portion of walking was taken care of by the SkyGlider, a chair lift type of ride that runs along a suspended cable over the fairgrounds. He would make sure to have plenty of pain medication on hand and drink a lot of caffeine. Big days like that meant also doing nothing the day before so he could rest, or the day after, so he could recuperate.
A New Drug
The next drug he was on, Afatinib, messed with his digestive system, so he had to regulate that with more pills. Those problems only led to more painful issues that can accompany prolonged digestive problems. His toenails were always inflamed, and soon his fingers were as well, making typing nearly impossible and always painful. Getting dressed was often accompanied by a pained, "Ow!" He had to soak his nails twice a day in Epsom salts. It was the only time I could see a virtue in him wearing flip flops.
Living With Cancer Means Waiting
Waiting for scan results often fills patients and their families with an anxiety termed in the cancer world, "scanxiety." Will we be able to keep going like we are, or is life, and treatment, about to take another detour through some unknown territory in a dark forest filled with lions, tigers, and bears—oh my? For all the problems the Afatinib caused him, it didn't do its job and on my birthday that year, we found out the cancer was worse than when he was diagnosed 2 years earlier.
Brain Mets
Not only was cancer back and worse than ever, it had also metastasized to his brain. So Dan had to have something called, "Gamma Knife" surgery at the University of Minnesota. This was essentially 200 concentrated beams of radiation to the tumor. Thankfully, it worked. Once cancer hits the brain, you feel like you've entered a whole new part of the journey. You feel vulnerable living with cancer in your brain.
Year Three- Hard Core Chemo
Next, they pulled out the big guns. Carbo/Taxol. Those treatment days were full days; in, in the morning and out at the end of the day. He would sleep in the chair hooked up to the IV, and I would sit in a folding chair with my Kindle. I'd run to the Subway shop to bring back lunch.
After that, he spent at least 16 hours a day in bed. On bad days, he would only get up for meals, and even then, he had a hard time eating, so he didn't stay up long.
Pain
Within a couple of days, he would be in so much pain. It was like torture. Stabbing, throbbing pain in his bones that no amount of pain medication could control. He turned to ibuprofen which is a big no-no while on chemo since it's a blood thinner. It helped, though.
Nausea
Nausea plagued him day and night, often leaving him with the feeling that the whole world was spinning. He lost his hair, including the mustache he had donned for over 30 years. We had a head shaving day when clumps had left him looking patchy. I have always given him his haircuts. That one was a hard one.
Chemo Brain
He got major "chemo-brain," a term given to the fog that hinders cognitive thinking and memory. When it was at its worst, he once asked me the same question 3 times in five minutes. He not only forgot the answer but that he had already asked the question.
Immune System Down
The worst, though, was when his immunity would plunge and he would get a raging fever that was nearly impossible to bring down. We had plenty of time racked up in the emergency room during those months. He missed church most Sundays, which was hard on him. Living with cancer didn't feel much like living at that point.
Small Reprieves
During that time, some amazing people came along side of us, blessing us with meals during the week of treatment, and helping to transport our daughter to and from school. The third week, the week before he would have another treatment was often fairly good. He could visit with people and spend less time in bed.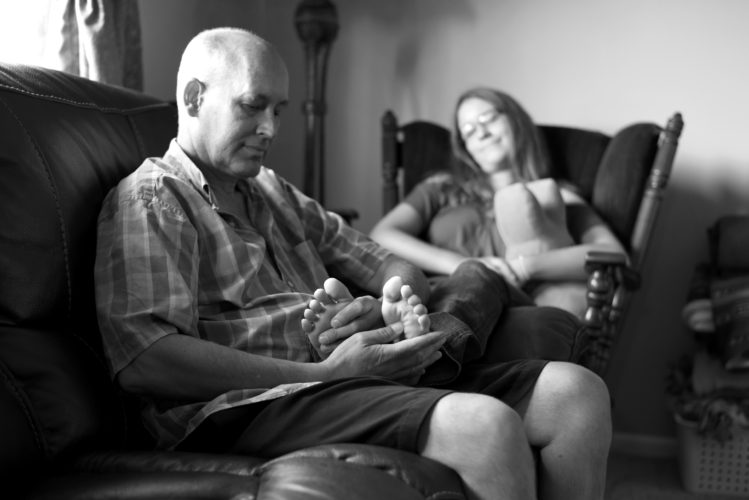 An Easier Treatment that Didn't Work
It was time for an easier treatment. Alimta was an infusion that only had us at the cancer center for half of the day if we scheduled it right. There were very few side effects. We hoped he could stay on it for a good, long time, but that wasn't to be. The Alimta didn't work, and the cancer was coming back.
Immunotherapy
Next, we would try immunotherapy. It was (and is) all the rage in cancer circles. It would harness the power of his own immune system to fight cancer. The Opdivo infusions only took up a half a day as well, and he tolerated them well at first.
Then came a cough. He could hardly talk without having to suppress it. He was constantly using lozenges to ease it. A cough was a known, side effect of the drug, in as many as 30% of patients. Would it go away? Theoretically, it would, when he went off of the drug. But, the drug was so new, it was hard to know for sure.
His cough got worse, and Dan became more isolated, He couldn't sing in worship services, and visiting was difficult because, with every word he spoke, a cough would come.
Year Four- Life and Death and Life
For our anniversary that year, he took me to a bed and breakfast. It was in a tugboat in St. Paul on the Mississippi. He planned the most romantic weekend.
The day we returned home, he went to bed and didn't get up for 3 days, except to eat. The cancer was back. It had been having a party in Dan's lungs while he was on Opdivo.
The Pulmonologist began to talk to us about preparing for the end. She was candid and caring. I was broken. I had been on Dan's case since his diagnosis to get some things prepared. It was hard for him to do because he never felt very good, and when he did, he wanted to live—not think about dying.
But he was. Right before my eyes, I was watching the love of my life slip away.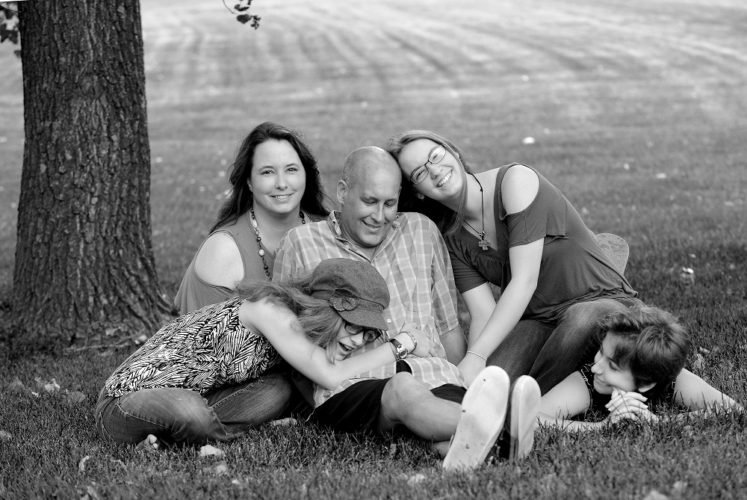 Our Kids Coping With their Dad at his Sickest
Children often suffer in the shadows of a parent living with cancer. They feel powerless to do anything about it, and the adults in their lives often don't know how to help them. Our youngest began to fall into the abyss of depression. She has Asperger's and struggles with her emotions, anyway. This was too much. I took a break from anything that wasn't essential. I needed to cherish every moment that I had left with Dan, and I couldn't leave our daughter alone.
A social worker visited to see how the kids were coping, and what she could do to help. She gave them coloring books to express their emotions. It sounds like a simple thing, but it meant a lot to them.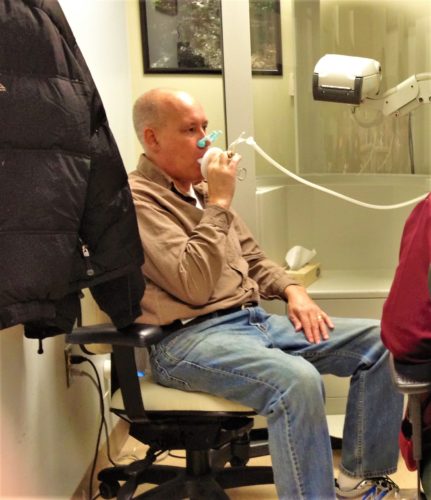 Home Health Care
We had home health care at that point. A nurse would visit each week, sometimes, twice a week. She would check his vitals and talk to us about transitioning to hospice. They couldn't find a solution for Dan's cough besides the hope that we could get the cancer under control once more.
Iressa
We decided to try a new drug on the market that was similar to the Tarceva that had helped him so much in the beginning. Iressa helped him to breathe again for 2 weeks. During that time, they ran a new, genome test. The cancer in Dan's body had become resistant to the Tarceva and Iressa, which fought a mutation he had called EGFR. Those cells, being smart, turned themselves into a new mutation, known as T790M. A drug, fresh on the market called Tagrisso matched his results. It had just been fast-tracked and put on the market 3 months early–just in time to save Dan's life. There was hope!
Gemzar/Cisplatin
It could take a couple of weeks for the Tagrisso to work, and Dan's oncologist worried that he didn't have enough time. He would be back on an infusion of a very old, harsh, (but effective) mix of Cisplatin and Gemzar–chemo for 2 weeks, and then a week off. Dan's immunity plummeted to a dangerous level and after the 2nd treatment, there'd be no more.
Tagrisso
It was time to try the Tagrisso. Soon, he was breathing again. His scans were looking remarkably better. In the beginning, he had lingering pneumonia, caught when his immunities were so low. But, soon he was better and we even got to fly to California where we spent time with our daughter, son-in-law, and our beautiful twin grandsons.
We began taking walks again. We made lots more memories as a family. Dan became diligent to getting things in order for me in case things change. Our experience has shown us that they do.
One day, we were having our morning coffee on the deck and he remarked that he has never been as aware of the amazing beauty in the world as he is now. I asked him why he thought that was. After thinking for a minute, he said,
"I think it's from having a near death experience. Before, I had cancer, but my problems were the side effects of the drugs. It was more theoretical. Not being able to breathe because of the cancer—that did something."
Year Five- The Easiest Year
This past year, living with cancer was pretty much auto-pilot. Dan continued to have monthly appointments with his oncologist, monthly labs, and scans every three months. Aside from that, we've tried to put the reality of living with cancer on the back burner as often as we could, Dan still suffers fatigue, pain, and weakness. He
Dan still suffers fatigue, pain, and weakness. He takes pain medication 24/7 to try to keep it under control.
A Disturbing Scan
After five years living with cancer, using the best drugs available, things will agian change. Eventually, even the best drug stops working. This past week, we got new scan results, ones we've been dreading. They show progression in his lungs as well as a growing lesion on his T2 vertebra. This will mean a change. We are holding off on making the change for as long as possible because currently available treatments hold little hope.
So what is a day like, living with cancer? Dan says,
" No matter how the day goes, one thing is consistent. It isn't how it was before."
I am an author, writer, and speaker and homeschooling mom of 3. Since my husband, Dan was diagnosed with stage IV lung cancer in 2012, I've focused my writing and speaking on helping cancer patients and their families advocate for themselves and live life to the fullest, in spite of their illness.
My goal is to help people face cancer with grace.
My book Facing Cancer as a Friend: How to Support Someone Who Has Cancer, is available on Amazon.com