Parental guilt is part of having kids. It comes with the job. You first feel it when you make decisions about feeding, Breast or bottle? You may feel guilty about your decision to go back to work or your decision to stay home with your baby when your finances are feeling pinched.
As your child grows, so does the potential for parental guilt. Education decisions such as where your child will go to school (or if they will be homeschooled) make matters even more complex, And, almost always, finances tug at those "guilt strings." It's hard to balance life in the best of times. Adding the roller coaster of cancer to the mix makes it nearly impossible.
When you or (your spouse) get cancer
Parental guilt hits an all-time high on the guilt-o-meter. You'll feel it every day.
Here are just a few of the things that add to that parental guilt :
Finances are even tighter than before.
Time is stretched to its limits.
Your new schedule, filled with appointments and blocks of time overtaken by fatigue, completely alters your family's way of life.
Your child may need to change (or even drop) certain activities because of finances, fatigue and scheduling conflicts.
You're exhausted and often, crabby. Sometimes you say things you wish you could take back.
Little Mary can't have friends over very often because you need the house to be quiet so you can rest.
Baking brownies for little Johnny's scout troop isn't going to happen anytime soon.
You forget to plan dinner more often and end up eating take-out four nights out of seven.
As if that's not enough, you begin to wonder about what your child's future will look like after living with a parent who is fighting cancer.
More to Mum
So, when I read a recent post on More to Mum called "Mum Guilt: Revealing the Standards You Impose on Yourself," I knew I had to share.
I loved her definition of guilt. Louise says,
"Guilt is the feeling we get when we don't meet the standards we've set for ourselves."
If that's true (and it is), we have a lot more control than we think, over whether we feel guilty, or not. The control lies in examining and changing our standards. How do you do that when everything feels so overwhelming?
Louise at More to Mum has graciously allowed me to share her infographic called, "Working Through Mum Guilt," (or parental guilt). It's self-explanatory, but to get the most out of it, check out her site, and especially this great post.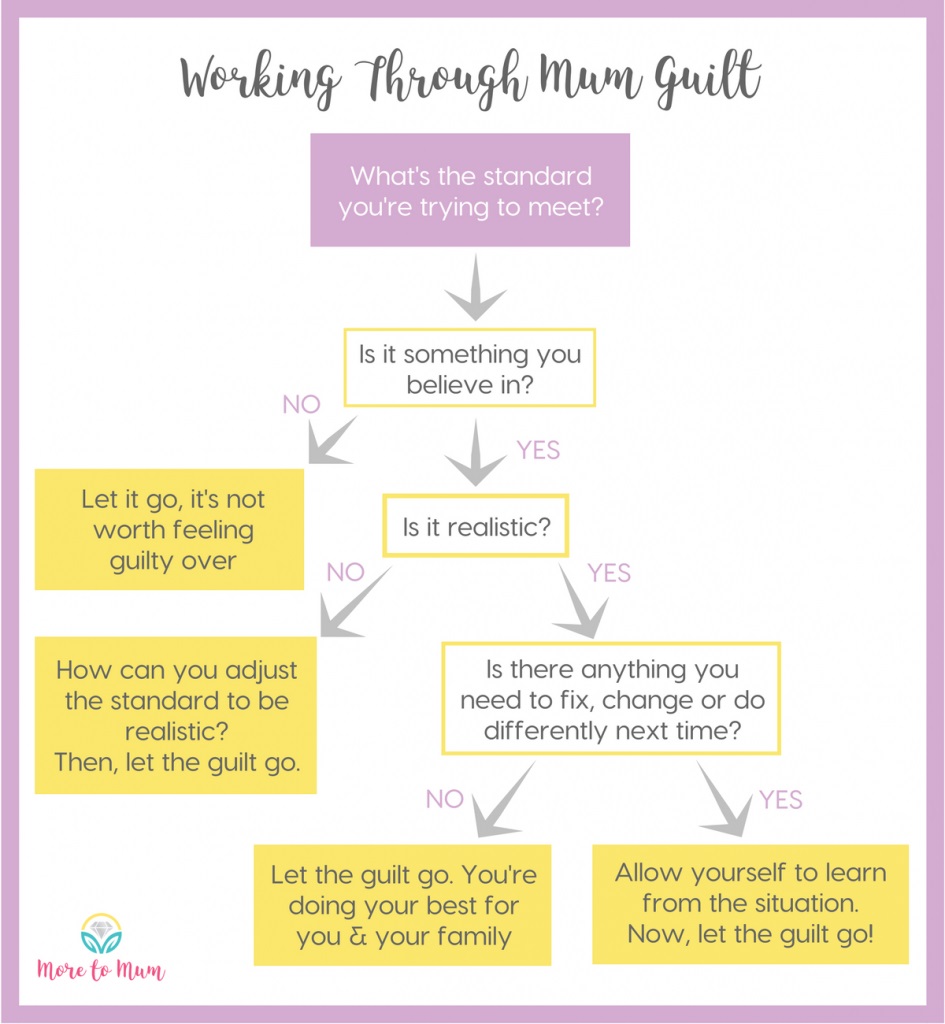 How assessing your priorities can alleviate parental guilt
Melissa Turgeon, child life specialist with the Angel Foundation, says,
"It's important to look at the calendar. You need to purposely carve out time with one another."
Pay attention to how each of your children is reacting to the changes that are taking place. Does one child need more one-on-one time? By spending time with a child who requires extra one-on-one attention, you can help make he or she feel more important. Your child will feel heard and know that you're available for them.
Melissa Turgeon adds, "Sometimes this is one-on-one time between the caregiver and a particular child, or a patient and one (or all) of the children. It can be the entire family spending time together."
Put it on the calendar.
Have dinner together,
Talk, and hang out.
Be purposeful about it.
This can be hard, regardless of an illness.
Find your routine
Building a regular routine is one of the best ways to give your children a sense of security and stability. This can be very comforting for all members of your family. You can utilize something as simple as a weekly board game or a TV show that you can share as a family. It could be a meal that you share on a regular basis. Praying as a family is a wonderful tradition that will not only comfort your family but will also pass on your faith values and be a reminder that you are not alone. Don't be discouraged if things don't go as planned.
Sometimes unexpected detours take you right where you need to be.
When it's hard to commit
It's hard to commit to an activity when you worry you might let people down if you can't make it. Seek out low-commitment opportunities for your family. Talk to whoever is in charge of the activity. Let them know your situation. They will be able to put your mind at ease. They'll also understand if for some reason you miss, or need to drop the activity altogether, in the future.
A full calendar?
Every member of your family is involved in activities outside of your home. From church activities to music lessons, these are all good things. But, there are times when these things are more of a burden than a blessing. During different seasons, reassess your activities. Some activities should be cut, some continued, and some replaced by other activities that are a better fit for your family.
When there's an activity your child wants to participate in, but it doesn't fit your family's schedule, there's a possible solution. Ask family and friends for help. This can be hard. That's where the next tip comes in.
Kick pride aside!
In the beginning, it can be hard to accept help when it's offered. Know that this is a temporary situation. When anyone offers to help you out say, "YES!"
It can be even harder to ask for help. I learned to ask for specific help when things were particularly difficult (like when Dan was on an especially hard chemo regimen). This included asking for meals and help with transportation for our kids when there were scheduling conflicts. It was an enormous blessing for our family to experience the generosity of friends and family. By being direct, you are helping friends and family who want to help you but don't know what you need most.
You don't need to be perfect—no one is.
It's important that you cut yourself some slack. It can be difficult to balance the needs of you, your spouse, and your kids. You're doing the best that you can, and whether they say it or not, your kids realize it. Kids are resilient.
This doesn't have to break your kids.
One thing that prompts feelings of parental guilt is the fear that this cancer experience will ruin your kids' lives. It doesn't have to. In fact, it may mold them into more caring and compassionate people. I learned this in a powerful way.
Each year our kids attend Camp Angel, a  summer camp for kids who have a parent with cancer, They play a "stand up-sit down" game where they ask a question, for example, "Do you have a pet fish?" "Is orange your favorite color?" and so on. If your answer is "yes," you stand up. If it's "no," you sit. They ask several questions, with kids and volunteers standing and sitting, up and down, up and down, Then, they ask the question, "Do you have a family member with cancer?" The result is stunning. You look around and see that everyone, including the volunteers, is standing.
The hope is that the kids will see they aren't alone. Their fellow campers and leaders know what they are going through, first-hand.
As a parent, I had a different revelation. One day, because of this awful thing our kids are experiencing, they may be able to help other kids who have a parent with cancer. Since then, all of my kids have become teen mentors at Camp Angel.
Whenever I feel the pangs of parental guilt, I pray,
"Lord, don't let this be wasted."
Bonus Tip! Let go of the little things, like having a tidy house
If you're used to having everything in its proper place, this can be tough. If your house looks like mine does, right now, you'll love this one! Housework can wait.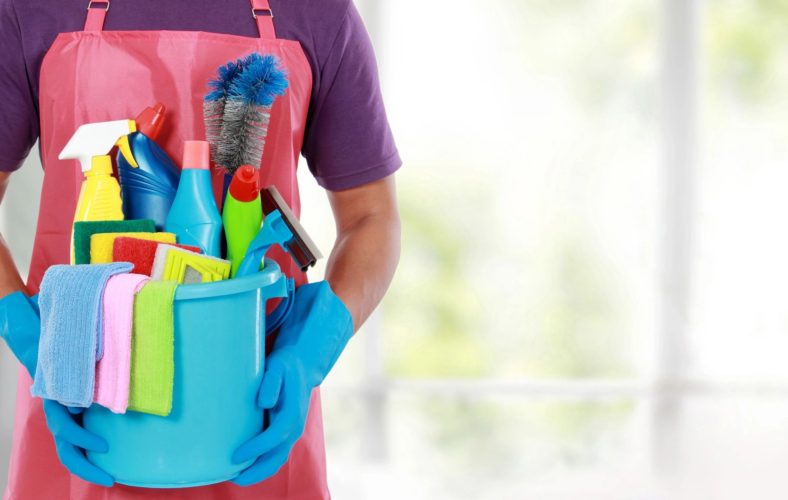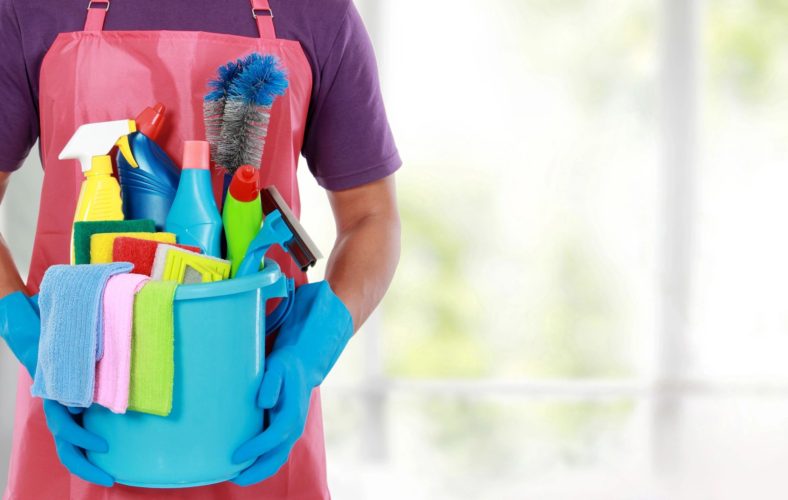 Let go of the belief that your house needs to be tidy. Instead, be satisfied with keeping it clean. There's a difference. Right now, I have 3 baskets of clean laundry sitting in the middle of my living room floor. My desk has so many stacks of paper on it that I write in the living room with my laptop. There's nothing tidy about that! But, at least it's clean. Clean is important, especially when you consider the fact that cancer treatments often suppress the patient's immune system. So, germs aren't a good thing to have to hang around. But, the toys on the playroom floor aren't hurting anyone (unless you step on one). The same goes for yard work. Let it wait or let someone else do it.
By setting realistic standards that are right for you and your family, you can let go of the unnecessary guilt that interferes with your joy and freedom. You have enough to worry about. Don't add parental guilt to it.
What are YOUR thoughts?

I'd love to hear in the comment section, below. I appreciate my readers as well as the writing community. To show that appreciation, I use Comment Luv. Just leave a comment below and your latest post will get a link next to it. Thank you!
I am an author, writer, and speaker and homeschooling mom of 3. Since my husband, Dan was diagnosed with stage IV lung cancer in 2012, I've focused my writing and speaking on helping cancer patients and their families advocate for themselves and live life to the fullest, in spite of their illness.
My goal is to help people face cancer with grace.
My book Facing Cancer as a Friend: How to Support Someone Who Has Cancer, is available on Amazon.com.